INTEL, Processor (CPU)
CPU INTEL XEON 4110- 2.1 GHZ WITH HEATSINK
Get an alert when the product is in stock:
Availability:
Out of stock
AED2,520.00
Out of stock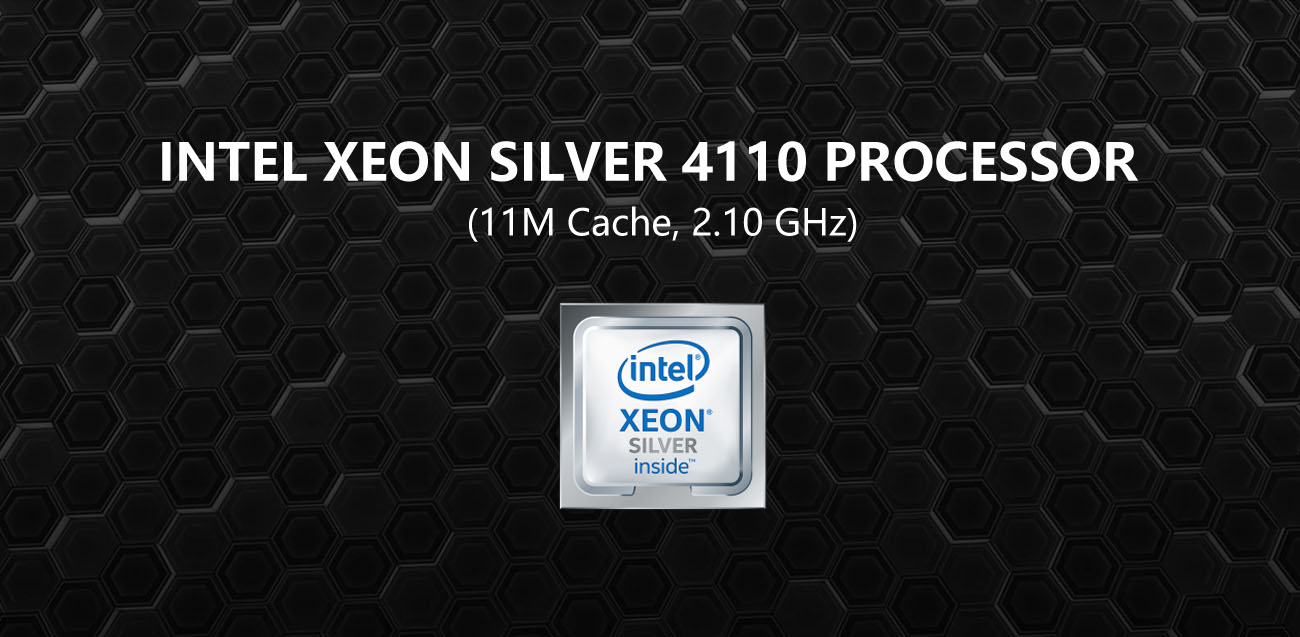 Featuring low power consumption yet robust performance delivered by 8-core with 16 threads, Intel Xeon Scalable Silver 4110 server processor is perfect for your data center. Powered by Intel's advanced technologies like AVX-512, Volume Management Device (VMD), Intel Trusted Infrastructure and more, this processor will meet all the needs for your thriving business.
Trusted Infrastructure, from the Cell Tower to Your Data Center

Experience the performance gains, cost and time savings enabled with Intel Xeon Silver processor family-based systems network appliances with hardware-enhanced virtualization capabilities, taking Virtualized Network Functions to a whole new level.

Hardware-Enhanced Performance

With support for Intel Hyper-Threading Technology and Intel Turbo Boost Technology 2.0, you gain the hardware-enhanced performance boost your entry data center compute requires.
Related Technologies
Intel Advanced Vector Extensions 512 (Intel AVX-512)

With double the flops per clock cycle compared to previous generation Intel Advanced Vector Extensions 2 (Intel AVX2)1, boost performance for your most demanding computational tasks in applications such as modelling and simulation, data analytics and machine learning, data compression, visualization and digital content creation.

Enhanced Intel Run Sure Technology

New enhancements deliver advanced RAS (reliability, availability and serviceability) and server uptime for your most critical workloads. Hardware-assisted capabilities diagnose and recover from previously fatal errors, and also help ensure data integrity within the memory subsystem.

Intel Volume Management Device (Intel VMD)

Provide a common, robust method of hot plug and LED management for NVMe-based SSDs (Intel Optane SSDs and Intel 3D NAND SSDs).

Intel Trusted Infrastructure

A suite of platform security technologies that address the numerous, increasing, and evolving security threats across physical and virtual infrastructures.
Integrated Products
Intel QuickAssist Technology (Intel QAT) (Integrated/Discreet)

Intel QAT enables hardware acceleration for cryptography and data compression, freeing the host processor to focus on other critical workloads.

Integrated Intel Omni-Path Architecture (Intel OPA)

High speed integrated data interconnect fabric for cost-effective deployment of HPC clusters.

Integrated Intel Ethernet Connection X722

Provides up to 4x10GbE high speed Ethernet capability for high data throughput and low latency workloads, reducing total system cost, power consumption and network latency2. Ideal for software-defined storage solutions, NVM Express3 over fabric solutions and virtual machine migrations.
Specification
Essentials
Performance
Supplemental Information
Memory Specifications
Expansion Options
Package Specifications
Advanced Technologies
Security & Reliability