Availability:
Out of stock
AED7,570.00
Out of stock
TS-863XU-RP
High-performance quad-core 10GbE NAS with redundant power supplies
Overview:
The cost-efficient 10GbE-ready TS-863XU-RP is powered by a high-performance AMD G-Series quad-core processor. Featuring native 10GbE connectivity that delivers high performance with persistent throughput, along with storage scalability, the TS-863XU-RP is perfect for businesses that demand higher bandwidth for data centers and virtualization.
Package Content
High-performance Quad-core 10GbE NAS with Redundant Power Supplies
2 x Ethernet Cables
2 x Power Cords
Flat Head Screw (for 3.5″ HDD)
Flat Head Screws (For 2.5″ HDD)
Quick Installation Guide (QIG)
High performance and AES-NI accelerated encryption
The TS-863XU-RP is equipped with an energy-efficient 64-bit AMD G-Series GX-420MC quad-core 2.0 GHz processor with 4GB DDR3L RAM (upgradable to 16GB), one 10GbE 10GBASE-T port, four Gigabit Ethernet ports, and SSD caching support for excellent multi-tasking performance. With a hardware-accelerated AES-NI encryption, the TS-863XU-RP also provides unmatched encryption performance while ensuring the safety of sensitive business data stored in the NAS.
Integrated 10GbE 10GBASE-T connectivity
The TS-863XU-RP comes with a pre-installed single-port 10GBASE-T Ethernet network adapter to fully support 10GbE high-speed networks. 10GbE networks deliver a major speed increase for virtualization tasks, fast backup & restoration, large-data applications, and also enable online video editing without needing the videos to be transferred between the NAS and workstations. Coupled with its large storage capacity potential, the TS-863XU-RP is perfect for companies to store massive data and enjoy increased IT flexibility.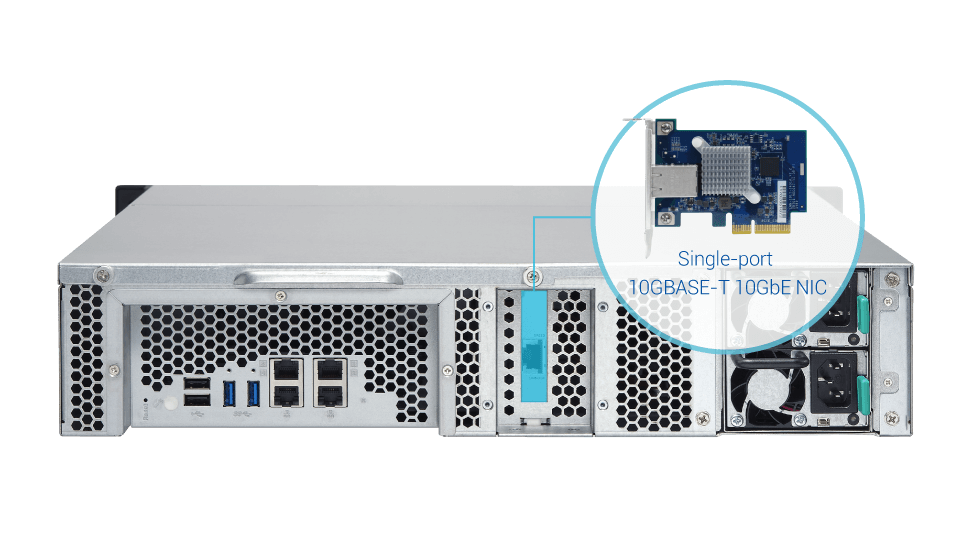 High reliability to ensure business continuity
The business-ready TS-863XU-RP is designed to provide 24/7 operations and services. The support for comprehensive RAID configurations and hot-swapping allow for replacing hard drives without service interruption. QNAP's advanced RAID recovery technology also helps if any healthy drives are accidentally removed from a degraded RAID volume. The system can be recovered by reinserting the wrongly-removed hard drives so the data can still be accessed. The TS-863XU-RP delivers high reliability and efficiency with quad 1GbE LAN support for multiple port-trunking modes including fail-over support. The TS-863XU-RP also features a hot-swappable redundant power supply to ensure maximum system uptime.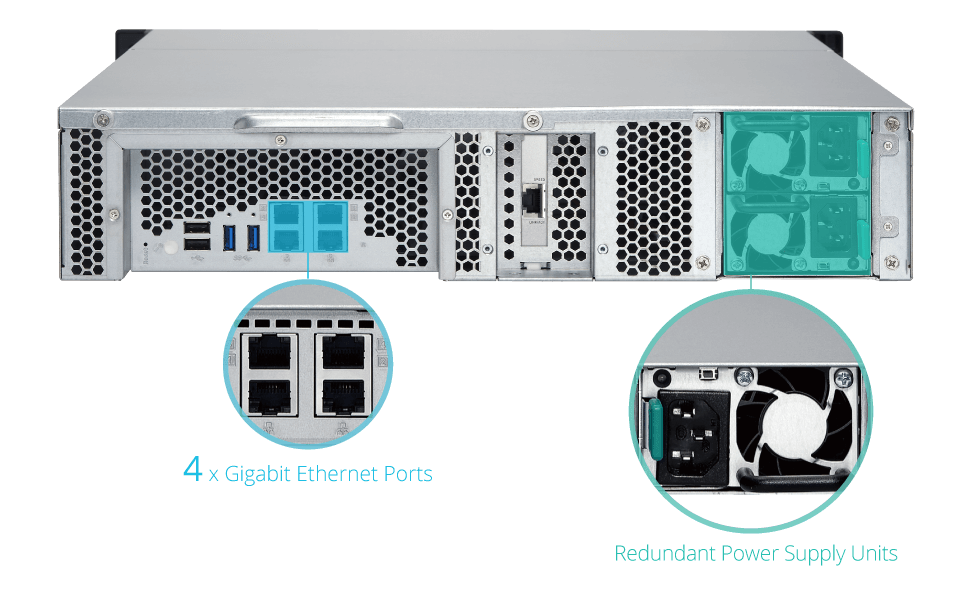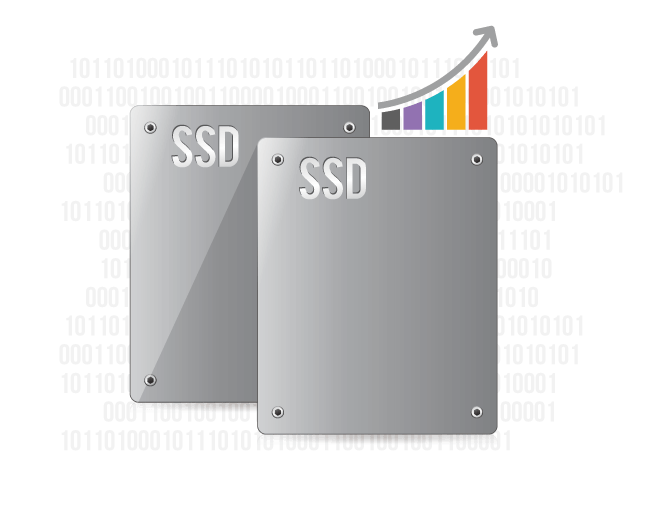 SSD caching and auto tiering enable optimized storage efficiency
The TS-863XU-RP supports SSD caching to improve the workflow of random IOPS demanding applications such as virtualization. Qtier™ Technology empowers the TS-863XU-RP with auto tiering that continuously optimizes storage utilization across high-performance SSD and high-capacity SATA drives. The new Qtier™ 2.0 features IO-awareness that empowers SSD tiered storage with a cache-like reserved space to handle burst I/O in real time, greatly maximizing the advantages of SSD.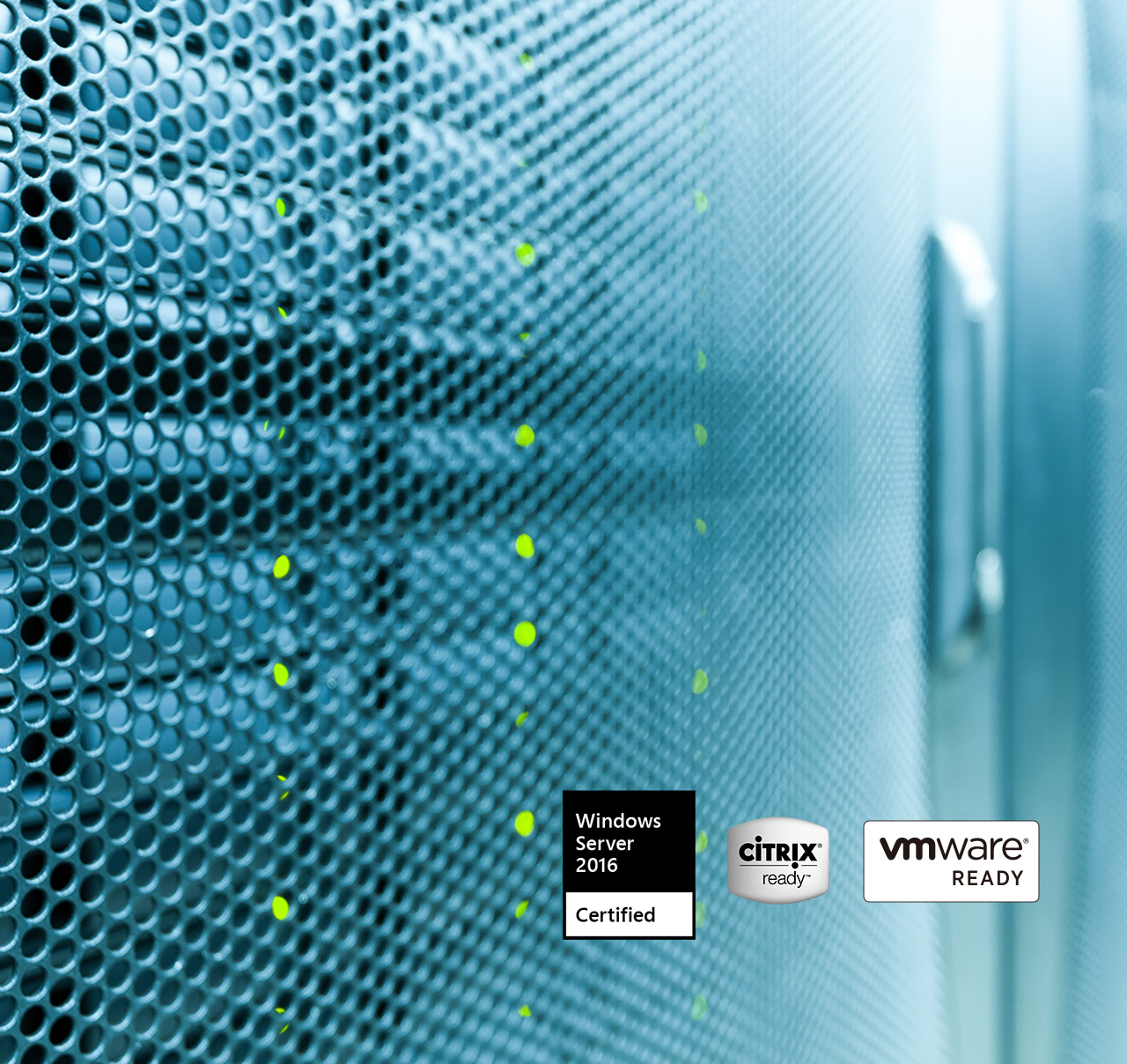 Block-based iSCSI LUN: Ideal choice for virtualization storage
The TS-863XU-RP supports block-based iSCSI LUN that provides a more reliable and isolated environment than file-based LUN. Supporting VMware®, Citrix®, Microsoft® Hyper-V® and Windows Server® 2016, the TS-863XU-RP provides a high-performance, reliable and affordable storage solution for virtualization environments, while also supporting VMware VAAI and Microsoft ODX to increase performance by offloading server loading for ESXi server and Hyper-V respectively, and supporting the QNAP vSphere Client plug-in and QNAP SMI-S provider with enhanced operational efficiency and management in virtualization applications.
QTS – The intelligent, intuitive and creative NAS operating system
With modularized multiple applications and functions, QTS enhances management efficiency, personal productivity, multimedia, and much more, making your NAS experience easier, efficient, and more flexible! The new Qboost provides a NAS optimization tool that helps accelerate applications, free up system resources, and schedule applications. The built-in App Center with hundreds of install-on-demand apps also opens up vast potential for extensive NAS functionality. QTS breaks the barriers of devices, platforms, and geography to bring you optimized cloud experiences and incorporates advanced features.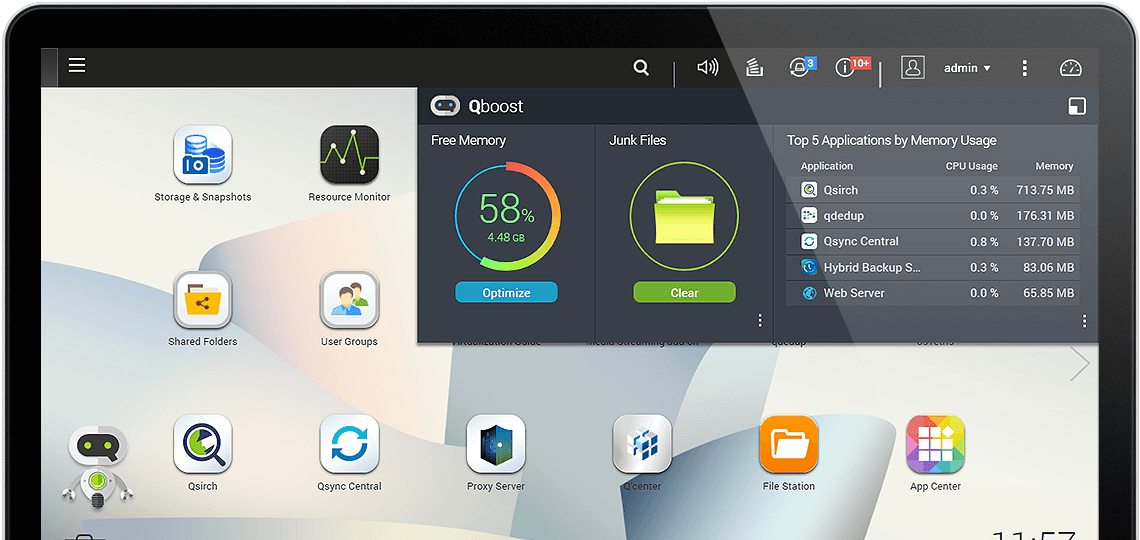 Complete backup planning
The TS-863XU-RP provides a reliable, flexible backup & disaster recovery solution to assist organizations in routine backup jobs with cost-efficiency and high productivity.
Windows and Mac backup

Use the license-free QNAP NetBak Replicator utility to back up/restore Windows® files, alongside Time Machine® support for Mac® devices. It is easy, fast and convenient.

» Learn More: Data backup & Disaster recovery

Hybrid Backup Sync

Consolidates backup, restoration and synchronization functions (using RTRR, rsync, FTP, CIFS/SMB) for easily transferring data to local, remote and cloud storage spaces as a comprehensive data storage and disaster recovery plan.

» Learn More: Hybrid Backup Sync

Snapshots for Volume & LUN

Snapshots are essential for NAS data protection, and its block-level feature makes it a dependable method for protecting data in the face of the growing threat of ransomware. The TS-863XU-RP supports up to 256 snapshots per volume or LUN, and maximum 1,024 snapshots per NAS.

» Learn More: Volume & LUN snapshots

VM backup

With high performance, potentially huge storage capacities, integrated virtualization solutions, and support for snapshots that record the state of the system at any time, the TS-863XU-RP are perfect for backing up virtual machines.

» Learn More: VM backup,NAKIVO backup
Optimized collaboration with seamless file sharing and sync
The TS-863XU-RP centrally stores data and files, and supports SMB/CIFS, AFP and NFS protocols for file sharing across Windows®, Mac®, and Linux®/UNIX® networks. Coupled with Qsync (a utility that turns a QNAP NAS into a safe, high-capacity data center for file synchronization) any file uploaded to the TS-863XU-RP will be made available for all linked devices, such as computers, laptops and mobile devices. You can sync shared folders and team folders for group file sharing to enhance the flexibility of team projects and collaboration. Files can be centrally managed using File Station, including files from mobile devices and optical disc drives. File Station also allows you to mount a remote NAS, and transfer files between your NAS and public cloud services for greater convenience.
» Learn More: Cross-platform file sharing,Qsync
Whole new QVR Pro surveillance solution
QNAP's new QVR Pro surveillance solution allows you to arrange a dedicated, independent storage space for surveillance data on the TS-863XU-RP and leverage the advantages of storage manageability from QTS. With QVR Pro, camera management, storage space allocation, camera live view and playback is greatly simplified. You can also use the QVR Pro Client mobile app to monitor your cameras from anywhere, or use USB webcams as ONVIF network camera with the QUSBCam2 app.
*The maximum number of channels supported varies by NAS model, network configuration, and camera settings. For more information, visit https://www.qnap.com/go/qvr-nas-selector.
» Learn More: QVR Pro,QNAP Mobile App
5,000

+

8
128
QUSBCam2
compatible IP cameras
free IP camera channels
max. IP camera channels
record from USB webcams
Speacification
HARDWARE SPECIFICATION
CPU
AMD G-Series GX-420MC quad-core 2.0 GHz
Encryption Acceleration
AES-NI
System Memory
4 GB DDR3L (1 x 4 GB)
Maximum Memory
16 GB (2 x 8 GB)
Memory Slot
2 x SO-DIMM DDR3L
(For dual-DIMM configurations, you must use a pair of identical
DDR3L modules.)
Flash Memory
512MB DOM
Drive Bay
8 x 3.5-inch SATA 6 Gbps bays
Drive Compatibility
3.5-inch SATA 6Gb/s HDD
2.5-inch SATA 6Gb/s HDD
2.5-inch SATA 6Gb/s SSD
SSD Cache Acceleration Support
Drive bays 1 to 8
10 Gigabit Ethernet Port
1 x RJ45 10GBASE-T via a pre-installed PCIe network card,
supporting 10G/5G/2.5G/1G/100M speeds
Note: Please use Cat 6a or Cat 7 LAN cables to achieve 10GbE speed
over longer distance (not included).
Gigabit Ethernet Port
4 x RJ45
PCIe Slot
1 x PCIe 2.0 x4 (preinstalled with a single-port 10GBASE-T network
card)
USB Port
2 x USB 3.0
2 x USB 2.0
LED Indicators
HDD 1-8, Status, USB, LAN
Audio
Alarm buzzer
Buttons
Power, Reset
System Warning 
Voice prompts
Form Factor
2U rackmount
Dimensions (H x W x D)
89 x 482 x 534 mm
3.5 x 18.98 x 21.02 inch
Weight
Net weight: 12.64 kg (27.87 lbs)
Gross weight: 14.76 kg (32.54 lbs)
Power Consumption (W)
HDD Sleep Mode: 51.29 (w/ 10GbE NIC)
In Operation: 107.30 (w/ 10GbE NIC)
Sound Level 
Sound pressure (LpAm) : 36.4 dB(A)
Power Supply Unit 
2 x 250W,100-240V
Fan
2 x 7cm smart fan (12V DC)
Operating Temperature & Relative
Humidity
0 ~ 40˚C ( 32˚F ~ 104˚F ), 5 ~ 95% RH non-condensing, wet bulb:
27˚C (80.6˚F)
Security Slot 
Kensington security slot
Note: Use only QNAP memory modules to maintain system performance and stability. For NAS devices with more than one
memory slot, use QNAP modules with identical specifications. Warning: Using unsupported modules may degrade
performance, cause errors, or prevent the operating system from starting.
* Sound Level Test Environment: Refer to ISO 7779; Maximum HDD loaded; Bystander Position; Average data from 1 meter in
front of operating NAS.
Designs and specifications are subject to change without notice.